Energy and environmental concept
An energetic renovation was carried out on all existing elements. This was achieved in particular by improving the insulation of the facades of the basic school and the gymnasium, and by improving the ventilation performance of the showers and changing rooms. Photovoltaic panels were also installed on the roof of the maison relais. A heating network linking all the buildings in the school complex was created. The surplus electricity produced is fed back into the national electricity grid.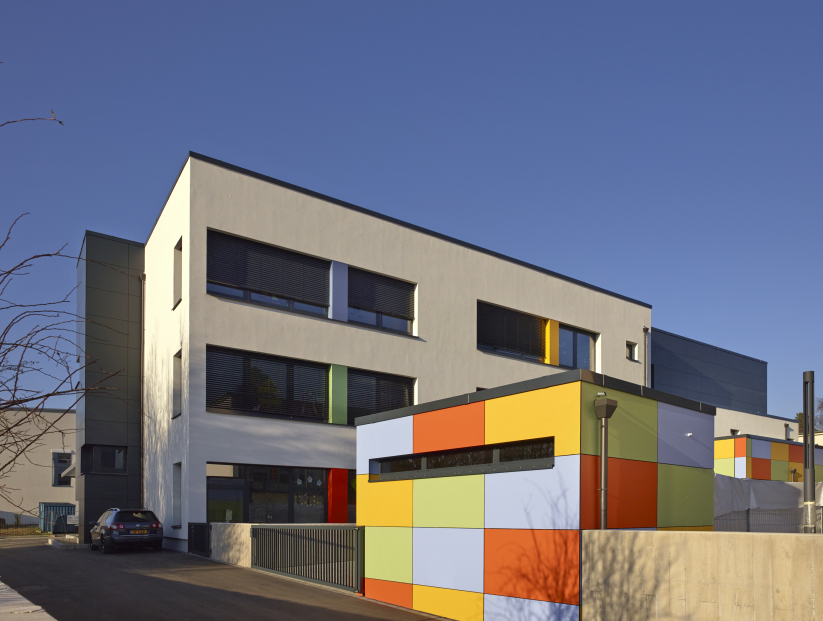 Modernization and expansion
Indeed, the school complex has been expanded with the construction of a maison relais that can accommodate 314 children. The 4 colours of its facade are wood fibre panels. They are reminiscent of the colours of the furniture in the different rooms. The extension of the basic school was necessary given the growing number of pupils, and its renovation meets the requirements of compliance. The old swimming pool was demolished in favour of the school yard to provide the children with more space for playing, including a multi-purpose football and basketball court. The sports complex is located on the other side of Pierre Hamer street, allowing the pupils to use the swimming pool and other facilities.