Combining modernity and history
The challenge was to rethink the functioning of the Circle, at least the part on the periphery of the Flemish room, on the different floors. Accessibility for people with reduced mobility, optimisation of the kitchen with its outbuildings, access to the inner courtyard condemned to gain in surface area: everything had to be functional while preserving the historic character of the building. A second phase of transformation of the Circle took into consideration all the premises, allowing a complete and rational functioning, at the level of security installations (access control, circulation, fire detection, sound system) but also technical installations (ventilation, low and low voltage current and multimedia). In addition to the reception rooms, the Circle now houses a conference room and the former Ratskeller has been transformed into an exhibition gallery.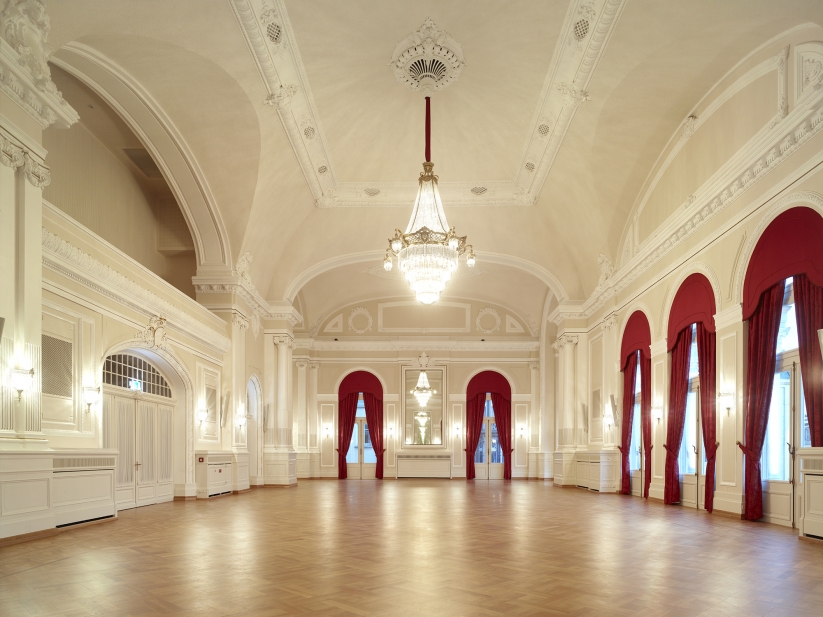 To harmoniously extend the Circle, our office has opted for a very aerial structure. A glass footbridge now links the Circle to the socio-cultural centre, the Cité, to create the "Cercle-Cité" complex. On the other side of the bridge, the architectural language calls for transparency and lightness, in order to contrast delicately with the Circle. The "monumental" and historical character is thus preserved and even sublimated. The Cité, whose accessibility was a priority, offers visitors a library-media library, a restaurant and an auditorium, among other things. This amphitheatre, with its atypical technique and in the form of a large bubble, is visible from the outside thanks to the transparent façade on the 3 floors. Placed in a red box, suspended and overhanging on the roof, it is visible from the street, as an invitation to go and see it more closely...