Customer
Communal Administration of Dudelange
The René Hartmann sports centre is a major asset for the town of Dudelange due to its multi-purpose character and multifunctionality. A phase of work was essential and today enables it to offer a wide range of indoor sports activities, from martial arts to climbing walls.
A colourful wall installation by the Luxembourg artist Armand Strainchamps now decorates the corridor, following on from the entrance hall. This artistic installation, made of perforated metal plates on which a sports shoe is gradually knotted, is a real invitation to physical activity. On the ceiling, zenithal openings in different colours give rhythm to this large corridor and create a nice contrast with the sobriety of the concrete.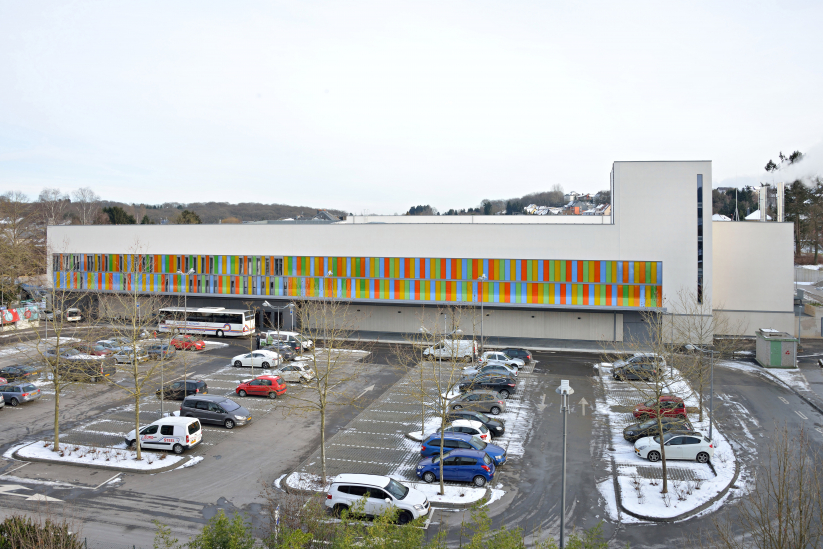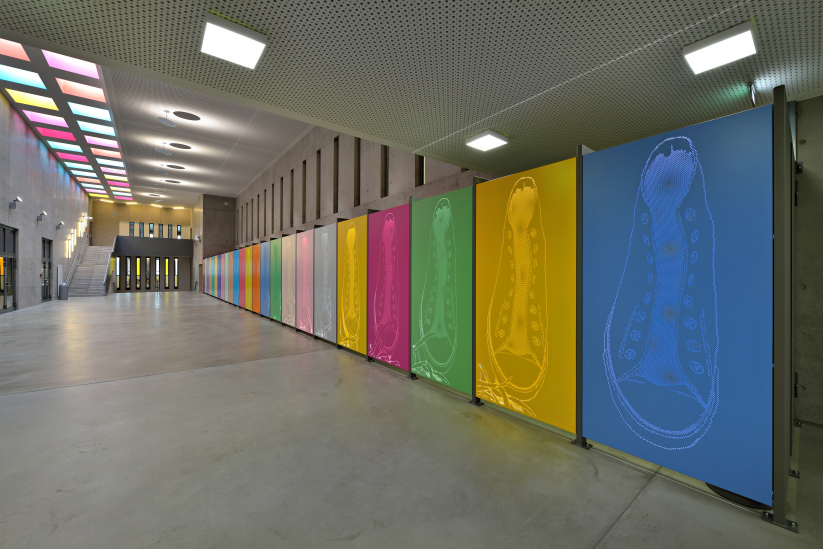 The complex includes two multifunctional rooms. The largest is equipped with 590-seat grandstands, half of which are telescopic stands. There is also a swimming pool with 2 pools, along which stands with 180-seat grandstands stand to comfortably admire the water features. The climbing gym offers a 15m high wall with 100 to 120 routes of different difficulty. The fitness room, divided on two levels into a cardio room and a cad-power room, is located on the site of the old swimming pool. A martial arts dojo, a 50 m long indoor athletics track and even an ice bath complete the range of services offered by the complex. The major challenge was to keep a certain harmony among all the spaces of the sports centre and to modernise the whole while remaining perfectly functional. And it was a gamble that paid off.